Christians around the world celebrated Christmas in full swing and while the celebrations were high, we just came across a story that warmed our hearts with love.
Children all over the world, till a certain age, believe in Santa Claus – a tall, round white-bearded man who distributes goodies on Christmas Eve. 4 years ago, a little kid spotted a man which fitted the description of Santa in his head. The man pretended to be Santa for years and it brought joy to the little boy.
Meet Alfie and Santa – AKA Mr. Hussain
In 2013, Alfie spotted Mr. Hussain walking down the street and called him "Santa". The kind Muslim man turned around and gave Alfie some money, which made Alfie believe that this man really is Santa Claus.
Alfie, who is now 6 years old, shouted, "Look, its Father Christmas" and since then, Mr. Hussain has been the friend of the family. Mr. Hussain works at an accountancy firm. He visits Alfie and his 13-year-old sister Hayley on Christmas Eve on their birthdays as well.
Alfie's mother Ashford-Rose shared, "Hussain three houses away and came back to knock on my door; he said he couldn't pass without giving a gift as my little boy thought he was Father Christmas,"
The mother of two also shared that since four years, Hussain comes to visit the family and they exchange gifts. "He never forgets their birthdays," shared Ashford-Rose with Buzzfeed. "Christmas wouldn't be the same without Hussain. We see him throughout the year. We call him Grandad Christmas,"
Amanda Taylor-Purchase, the former neighbor of Alfie shared the heart-warming story of the day the kid saw Mr. Hussain for the first time. Despite Mr. Hussain not being of the Christian faith, he makes these two children really happy, as said by Amanda.
Here's What She Wrote:
"It's not very often that I get a tear in my eye at a photo shoot, but that guy just did it for me. I thought I had to tell that story," she told BuzzFeed News.
"I've known Alfie since he was just a baby, there's not much that stops him in his tracks, but when he saw 'Father Christmas' he came running into me and said 'you've got to come, the real Santa Claus is at our door, he comes to our house.'"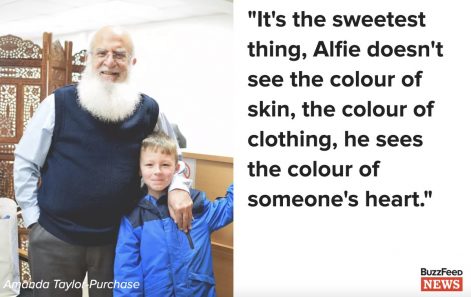 "Not at all," she said, "obviously it's just the beard association for Alfie – he's a little fellow, very skinny, wearing a business suit. It's the sweetest thing, Alfie doesn't see the color of skin, the color of clothing, he sees the color of someone's heart.
"This guy looked so friendly and so welcoming and he saw his big white beard and thought he was Santa Claus."
"One year there were balloons outside and he saw it was his birthday. Now he stops by and gives him a birthday present, and a Christmas present, it's become a tradition. For him to come back and knock every year and not forget his birthday, not forget Christmas, and even remember his older sister who doesn't believe in Santa – it's just the sweetest thing."
When the Taylor-Purchase shared this on Facebook, many wanted to surprise the 'Santa'. Alongside Alfie, Taylor-Purchase took two bags filled with goodies to surprise Mr. Hussain.
Children are so pure of heart – without knowing the religious difference or anything, Alfie spotted a man and assumed he is Santa and Mr. Hussain, despite being of a different religion, continues making kids happy.
Read Also: 6 Reasons Why Christmas Is Important For Both Muslims And Christians