Suicide is becoming way too common nowadays. It is indeed a sad state-of-affairs to know how many people are now battling depression and ending up taking their lives. More and
more cases are being reported almost every other day
and it is the time many of us realize how important it is to educate ourselves about mental illness.
Just yesterday, on 9th June 2018, another case of suicide was reported that too at Masjid-al-Haram. According to sources, the man was identified as a French national who was 35 years old. He committed suicide just a day after his birthday according to the details revealed. The man had received serious injuries after falling to the ground and died on his way to the hospital. The authorities have also said that the reason of suicide was inconclusive as yet, however, an investigation into the matter is underway.
The local administration said that the man fell in the 'Mataf area' and his ribs and many other bones were broken.  An alleged video of the incident shows the man jumping from the roof of the Grand Mosque, falling and then landing on the ground with a loud thud.
*GRAPHIC CONTENT*
Here's the video of the guy jumping off from the third floor in Haram…
After this incident, as the video surfaced on the internet, many people were found cursing him for this act. What many fail to acknowledge is the fact that, that person may be going through an extreme depression where he gave up all means of staying alive. It clearly shows how important it is to understand all about depression and how it eats a person alive.
A still after the incident
His details were revealed later on… (Many claimed that he was a Pakistani at first)
His Umrah Visa….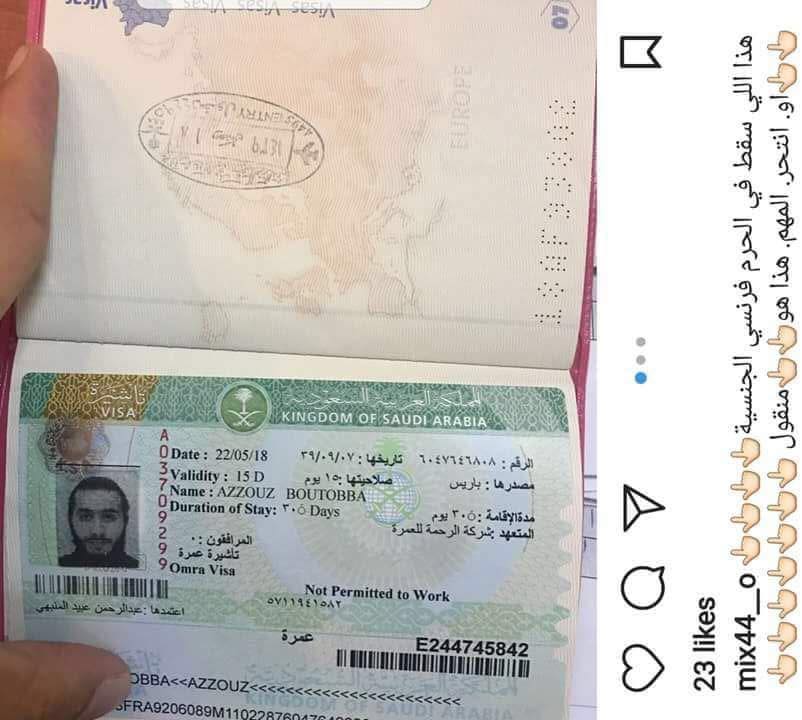 Facebook / Humna NadeemAnother video…
https://www.facebook.com/humna.nadeem/videos/pcb.1801666473205023/1801665946538409/?type=3&theater
A girl gave an important message to all the people out there and it is indeed something that everyone needs to read very carefully.
https://www.facebook.com/100000850646379/posts/1801666473205023/
"Suicide is NOT a solution please understand… it's rather a beginning to a whole problematic and painful hereafter. Quitting should not be our attribute… We are THE BEST OF CREATIONS (Ashraf-ul-Makhlooqaat) and we have to face our exams as one. Talk and tell people around you… talking brings ideas it self even if listener is unable to help. Try it. Our mind is very powerful. When u talk about problem u will hear solutions inside (thats loud thinking) it's not necessary that the other person will help u for sure but it's confirm that u will get the solution IF U HAVE WILL TO SOLVE IT…"
In Islam, committing a suicide is a grave sin and it is strictly forbidden. A Muslim's killing himself/herself is a bigger murder and sin than killing another person.
The Prophet PBUH said:
He who commits suicide by throttling shall keep on throttling himself in the Hell Fire (forever) and he who commits suicide by stabbing himself shall keep on stabbing himself in the Hell-Fire. (Bukhari, Janaiz 84)
Last but not the least…
It is important that we as a society should talk about it and raise awareness because mental illness is real
WE SAT WITH SANA ZEHRA ON THE SUBJECT ONCE. IF YOU WANT TO GAIN AWARENESS REGARDING MENTAL ILLNESS, PLEASE HAVE A LOOK AT THE FOLLOWING VIDEO:
"Am I depressed?" Let's Talk with Sana Zehra

Gepostet von Parhlo am Donnerstag, 17. November 2016