For the past few days, famous private schools have been the topic of debate. From sky-rocket fees to language banning, private schools in Pakistan continue to disappoint parents and students.
Lahore Grammar School – one of the most reputable and well-known schools of Pakistan is a dream for many. Grammarians feel honored being linked with this name. LGS is a name itself that is known to educate and train the finest students in Pakistan. However, this particular case is putting a lot of questions on their credibility.
Amidst the number of criticism the school recently received, the father of an LGS student shares his story on how the school allegedly mocked him and his family due to late payment; that too when the late payment was not his fault.
Here is the video of his Afrin Hussain – please spare 7 minutes and listen to what he has to say:
"Duniya ki Sabse Muqadas cheez – Ilm – beechte hu, zalimo!"
Afrin Hussain's daughter got injured in a road accident a few months ago. Because of her accident, she missed her classes and wasn't able to attend school for a few weeks. During that course of time, the school issued fees form, which according to Afrin, wasn't delivered to him. After several warnings by the admin and continuous plea by Afrin that he hadn't received the fees form, Afrin and his daughter were allegedly humiliated by the school's administration.
A lot of people commented on how "irresponsible" the father is. On this note, Afrin and his wife addressed the situation by the following comments: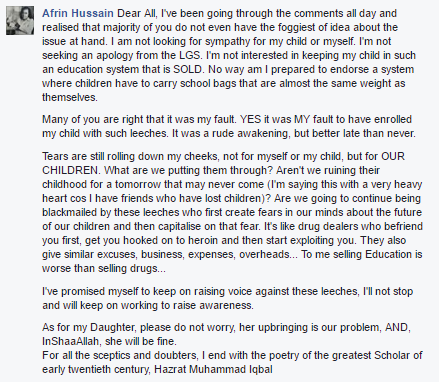 "Tears are still rolling down my cheeks, not for myself or my child, but for OUR CHILDREN. What are we putting them through? Aren't we ruining their childhood for a tomorrow that may never come?"
It hurts me, a daughter of a man who spent millions on my education, see another father cry over the treatment he and his daughter received from one of the finest schools in Pakistan. Come to think of it, our educational institutions have forgotten that Pakistan is a developing country that has only 7% to 10% population availing education. Looking at the fee structures and the treatment practiced in these schools over money, it is safe to say that these institutes keep money way ahead of the education of a student.
What do you have to say about all this? Share your opinion.