In a twisted turn of events, a dead body of an 80-year-old woman was found in a home located in Askari IV. According to the neighbors, the smell of the decomposing body badly infected the area, due to which they took action and intervened in the matter.
It has been stated that the woman died somewhat 6 days ago and the residents did not bury her. The neighbors stated that the death of the lady was due to age and natural illness, but the way the family kept the body in their home raises suspicion.
The house belongs to two daughters who were responsible for burying the old lady. Allegedly, it has been stated that when the daughters were asked about the death of their mother, they stated, "she was just ill and could never die", showing how there was some 'amal' going on the lady who passed away.
In a Facebook Post, Few Locals Reached Out and Commented on the Family
One individual mentioned how the daughters have no male support and thus, they were mentally disturbed due to the death of their mother.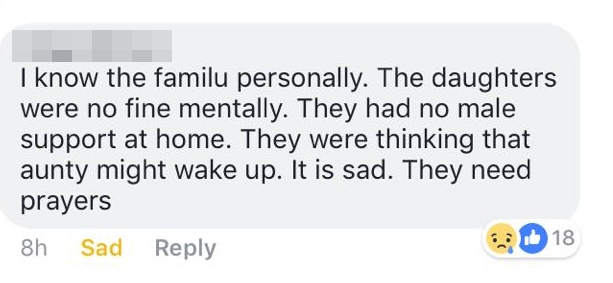 Another comment shed light on how it wasn't 6 days, but weeks because the daughters were conducting Wazeefah to bring their mother back.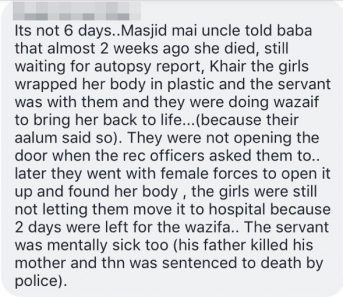 The police later did intervene and have submitted the body for an autopsy to the Civil Hospital Karachi.
The suspense still continues as the daughters have not revealed the real reasons why they did such a thing. If they really need help as mentioned in one of the comments, someone needs to stand up and shed further light on it. It may save the two girls for the life they have ahead of them.
It is indeed a disturbing matter!