It may have escaped your notice, but Aamir Liaquat Hussain – an MNA, televangelist, meme-inspirer, poet, and so much more – is now a self-proclaimed icon of Karachi.
When most of the attention was on the Parliament on Wednesday where the PTI-led government and the opposition were at each other over legislation, Liaquat was a story unto himself.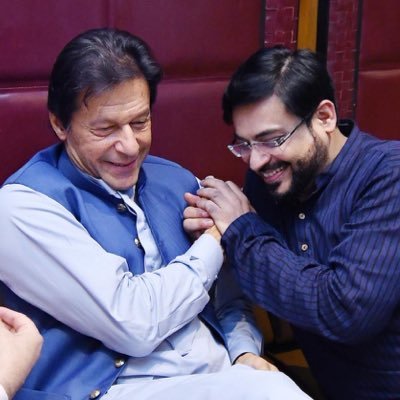 What was trending on Twitter was Liaquat. Of course, that was not so hard. Clearly, his 'iconic' status can be traced through his unceasing wooing of Imran Khan. It all started, as it has before, with Liaquat last month saying he was resigning from the PTI.
How to restore your on-again, off-again relationship to its former state:
Keep it snappy, and wish them well. Liaquat tried not to sound bitter in his break-up message. While keeping it curt, the controversial host ended it by wishing them well so it seemed he is taking the high road.
"Resigned from National Assembly," he announced in October. "May Allah Almighty support Imran Khan and PTI. Allah Hafiz."
But Liaquat's Twitter timeline is a classic example of sending a break-up text message and not getting the response you anticipated of being wooed back. What do you do then? You drop hints after hints that you are more than willing to be taken back.
"Of course I will be with the captain till the end," he let them know he is still not over them.
As if that were not enough, he threw in some emo photos in the mix with Sajjad Ali's soulful voice.
If someone from the subject of your affection approaches you, do not be too excited like that is all you have been waiting for. Keep the door open, as Liaquat did with PTI's Imran Ismail.
What do you do to get the attention you are not getting? Force a situation in which you come face to face with the subject of your affection.
Seeing Imran Khan after months is no big deal, so you appear peppy.
But when all that fails, let them know how hurt you are and what a catch you are. Liaquat is not afraid to let the other party know that he's a catch. An icon.
Score!
With a picture and his ever-ready poetry, he conveyed that he did not really come (which he did) but was brought to the Parliament.
Now to make his reunion official on social media, he went on to share a picture with poetry that conveys all the love, heartache, and alignment of stars.
If you are in an on-and-off relationship, this guide might also come in handy to you.
Read More: Aamir Liaquat To Resign As MNA, Says He Cannot See Karachiites Suffer Anymore
What do you think of this story? Let us know in the comments section below.