How many times have you had administrative issues in your school/college/university? Be it a delayed certificate, clashes in your courses, notices of non-payment of fees (even though you had paid) or not even getting admitted because your admissions application was lost, the academic life is no easy thing to handle.
But what if I was to tell you that all of the above could be avoided? That there would be no more unnecessary hassles? That even the necessary hassles will become unnecessary?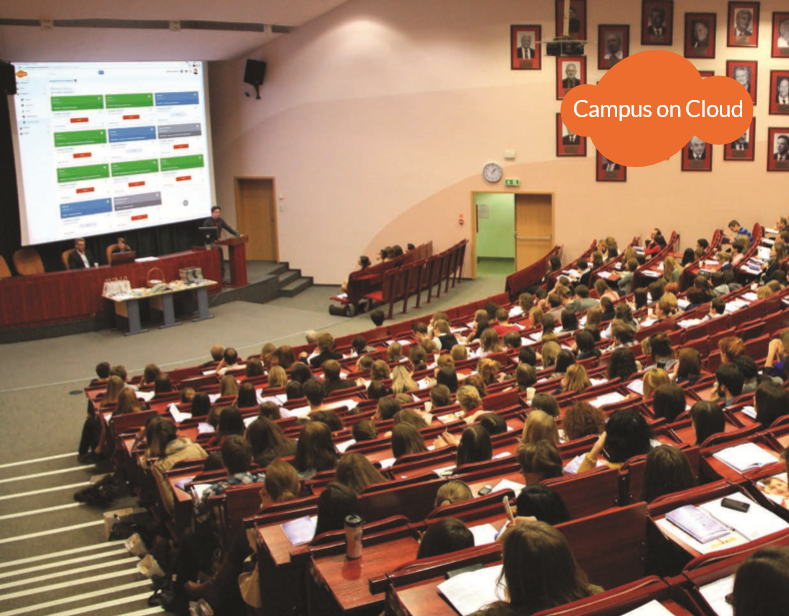 It is true and it's very simple. To avoid all that, the only thing that the owners of the institution need to do is adopt a really simple-to-use yet comprehensive product called Campus on Cloud.
Introduced by a company called AlmusNet, Campus on Cloud does something simple yet remarkable. Not only does it streamline processes that had a huge number of steps, it also speeds up those processes by making them completely digital. Campus on Cloud manages everything that occurs on the campus, namely Admissions, Academics, and Student Financials. 
Campus on Cloud is what is called a Campus Management Solution (CMS). As the name suggests, the solution's primary function is to manage the administration and functioning of any Higher Education Institution. To accomplish such comprehensive automation, Campus on Cloud is structured into four modules:
Core:
This involves management of the Administrative and Academic hierarchy of the University. This includes managing campuses, schools and departments on the administrative side, and programs, and the specializations being offered on the academic side.
It also allows management of terms and sessions and the academic calendar. A centralized Policy Control Panel lets the university tailor the rules for Admissions, Financials, Enrolment, Grading and others at all levels in the administrative and academic hierarchy, allowing for the individuality of each institution to be reflected in the CMS.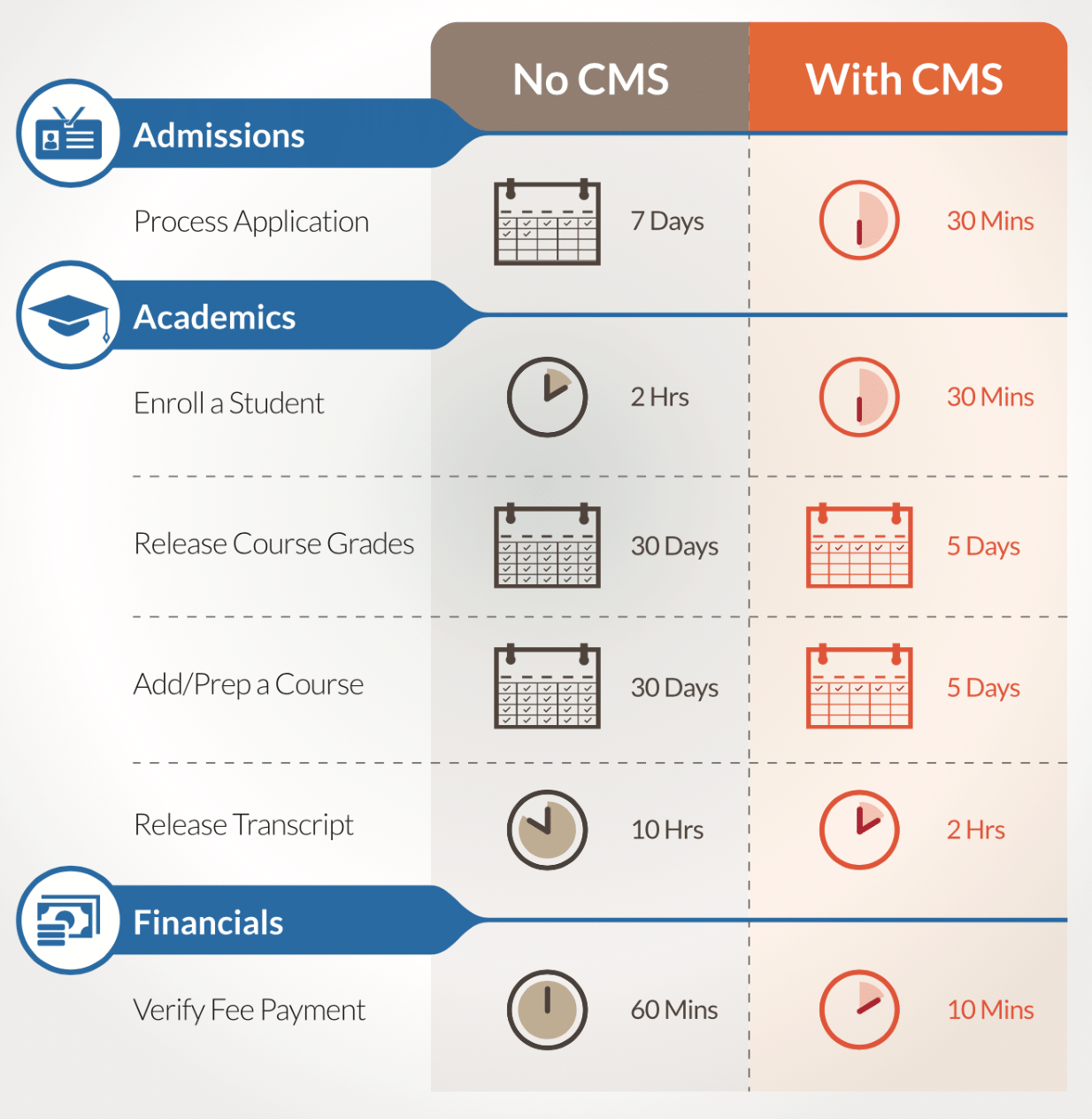 Admissions:
Campus on Cloud provides a fully customizable online Admissions Application. Since every university or college has its own version of the admissions form, Campus on Cloud ensures that the Institution can request exactly the information they want from prospective students. Campus on Cloud allows institutions to configure the generation of selection and merit lists as required through an exhaustive set of criteria for evaluating applications. The admissions workflow can also be configured by it and the workflow can be different across programs, departments etc. to address their specific needs. Applicants are able to accept or reject the offers and pay the admission fee online.
Academics:
Campus on Cloud supports setting up the course curriculum, offering courses and scheduling classes, faculty and exams. Students can be enrolled into classes administratively and via self-service through the Student Portal. Students can add, drop or swap a course and the appropriate controls. Instructors track attendance and grade assignments, quizzes and exams through the Faculty Portal.
Financials:
Campus on Cloud tracks all the financial transactions during a student's life cycle at the university. The Financials module covers:
Setup and Processing of Admission and Tuition Fees and other charges
Award and Disbursal of Financial Aid, Waivers and Scholarships
Collections of Payments, Dues and Age Analysis
The Student Portal lets the students view their account statement, pay dues online and request deferrals and installments plans.
using the software
A major issue with most CMS software is that it is very difficult and cumbersome to use. For example, we have heard from many students at top universities that their CMS is not user-friendly at all.
The most striking feature of Campus on Cloud is its user experience. It looks and feels like software that was built with the users in mind. It provides simple and direct access to the required functions and its clear layout makes using the software a joyful experience. As you can see in the screens below, Campus on Cloud just looks completely different from typical application software.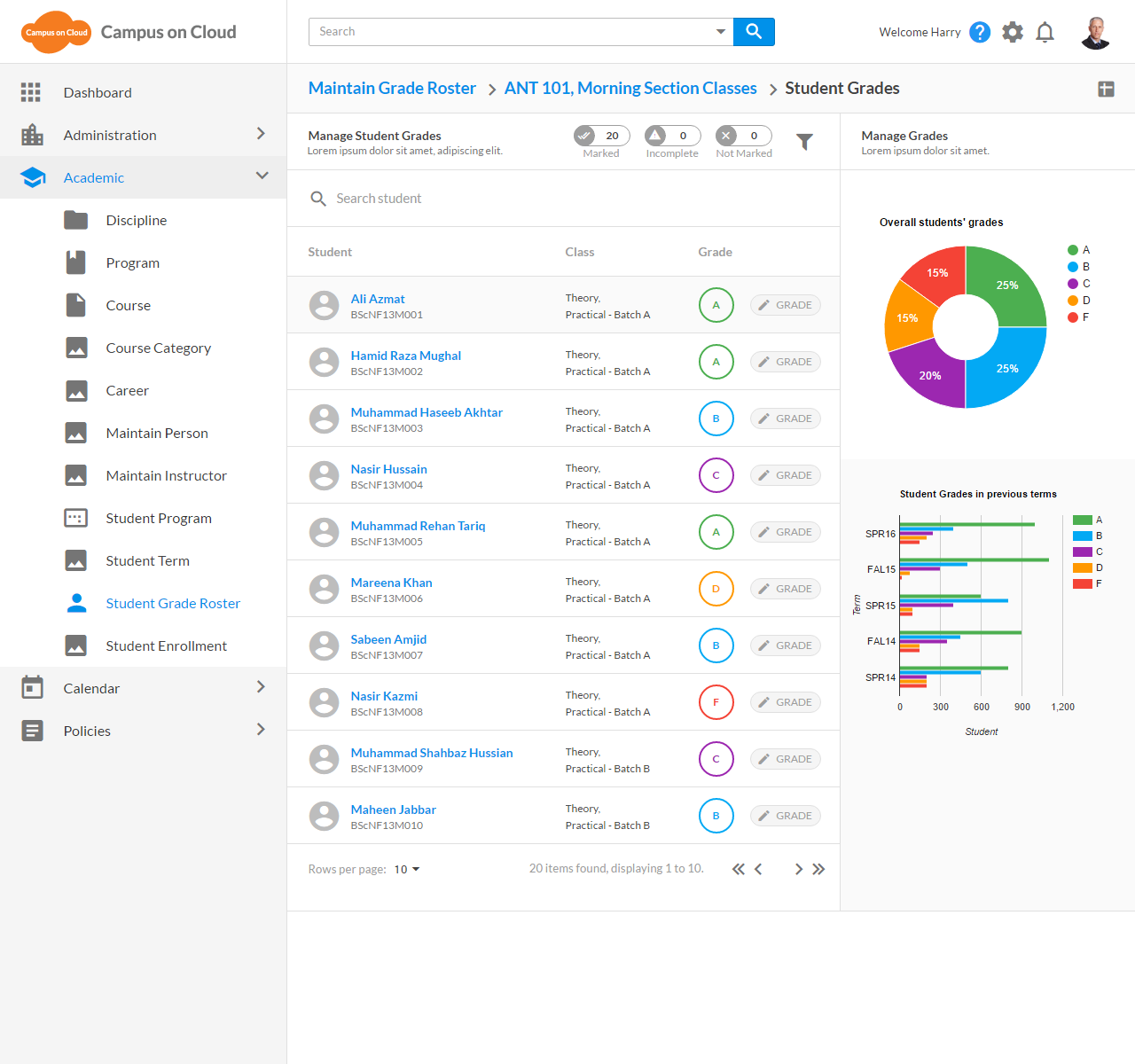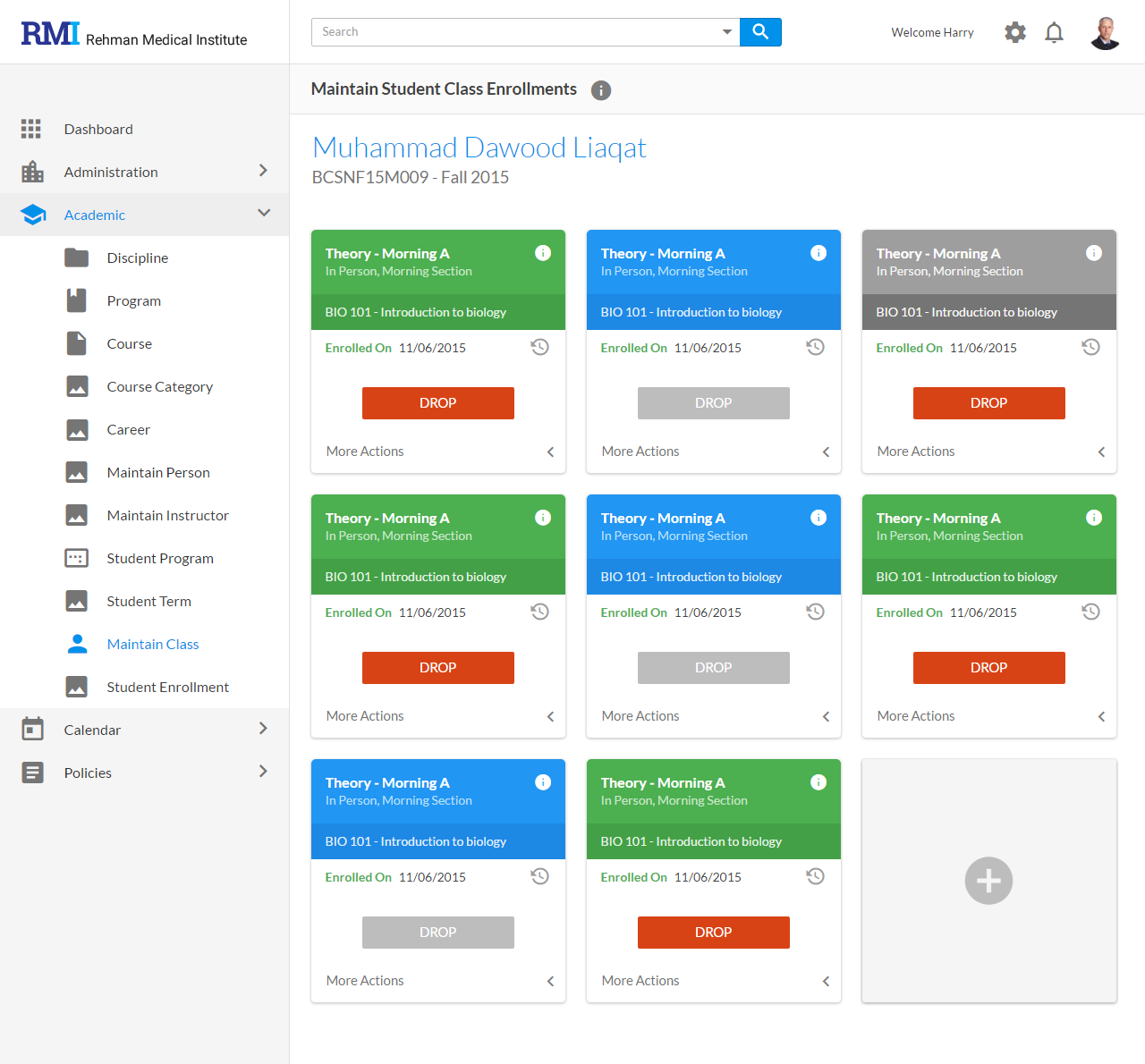 Software in the cloud
A key aspect of Campus on the Cloud is the software delivery model. Campus on Cloud runs on the Microsoft Azure Cloud. The Microsoft Cloud is supported through more than 20 data centers around the world and provides 24×7 operations with strong focus on cybersecurity protection, backups and disaster recovery.
By delivering Campus on Cloud via Microsoft Azure, AlmusNet is able to bundle together all the hardware, software technology and application software in one complete package. This reduces the operational burden on IT staff and makes it feasible for even the smallest college or university to operate and sustain a state of the art Campus Management Solution.
But how much does it cost?
After all this, you might think that a software as comprehensive as this would be very expensive. If you do, think again. The table below shows a comparison of Campus on Cloud with two of the leading CMS solutions globally. As you can see, Campus on Cloud is hardly 15% of the price of the SAP and Oracle. Yet, it provides a set of features that are directly comparable with both SAP and Oracle.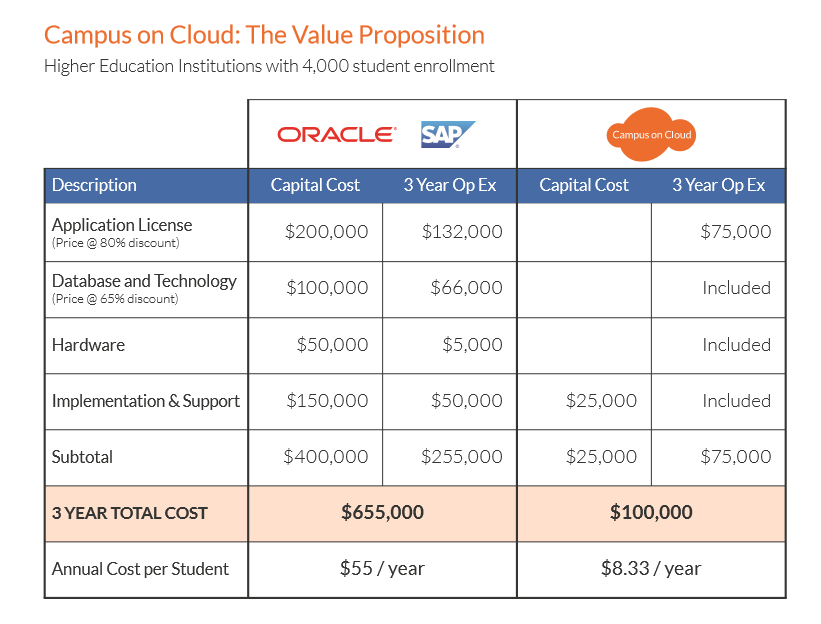 This is how much you're saving with a student body of just 4000. Most universities in Pakistan have a student body much larger than that so the savings will be even greater.
According to Shafique Ur Rehman, CEO of Rehman Medical Institute (which is a case study for Campus on Cloud), the program has transformed the management of his academic function and made growth/expansion easier.
Almusnet
AlmusNet, the company which has developed Campus on Cloud, is a spinout from Techlogix, one of the largest IT services companies in Pakistan. Techlogix has implemented CMS in more than 25 universities and colleges in 10 different countries. This breadth of experience has ensured that the AlmusNet team has the vision to execute and develop a world class solution.
So what are you waiting for? Get Campus on Cloud today and make your own and your students and faculty's life easier and your profits much larger!