If you're a fan of Shahrukh Khan's movies and somehow cannot watch his latest blockbuster Raees in the Cinema, well, there's a loophole that we've found out. You can now watch the movie absolutely free on Facebook!
Only a day after the move was officially released throughout the world, one Facebook page named "Pakistanio" somehow had the movie uploaded on their page, absolutely free to stream.
https://www.facebook.com/officialpakistanio/videos/1840253646231553/
The movie which has King of Bollywood Shahrukh Khan, India's number one actor Nawazuddin Siddiqui and Pakistani actress Mahira Khan, is making buzz all across the world.
However, for the movie to be pirated so soon and be uploaded on Facebook, well, we really can't wrap our heads around it.. but it is real! The movie was also subject to a lot of controversies before its release, as Mahira Khan is a Pakistani actress and the tense relationship between India and Pakistan saw a lot of Indians wanting the actress out of the movie.
While Shahrukh Khan completes his train tour of India in a bid to promote his movie, Pakistani actress Mahira Khan is performing her duty of the movie's promotion in Dubai.
Usually, when movies are released in cinemas, it takes a while for them to be on the internet, that too with an awfully despicable cinema print. In the most anticipated movie of 2017, Raees' case, it has been the completely opposite. The leaked movie has been shared thousands of times and been streamed almost 50,000 times already.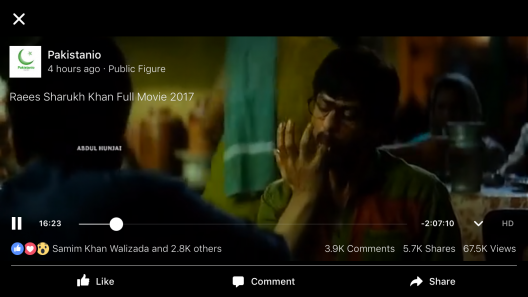 It is a huge possibility that the movie might be taken off from the Facebook page due to copyright infringement but for now, it is up and if you act on time, you can watch the movie without any hassle at all.
The leak also puts a huge question mark on the future of cinemas and piracy around the world. Will Facebook be able to strengthen itself to such an extent that all the major releases from around the world will be easily available for the audience, free of cost? Or will the system change and pirated versions of the movie will be taken off from Facebook?
Whatever the case is and what ever happens later on, for now, Raees is available on Facebook and can be streamed extremely easily.