About 2 years back, a female student of TILS, a law college in Lahore, Khadija Siddiqi was on her way to pick up her sister from The Convent of Jesus and Mary. Khadija was stabbed by her own classmate 24 times on her chest and the neck. Her attacker, Shah Hussain, is a son of a renowned lawyer based in Lahore as well.
The attack on Khadija Siddiqi surfaced all over social media throughout these two years with multiple proceedings in the court. She garnered a heap of support from many Pakistanis. Khadija miraculously survived and sustained multiple injuries, took a long time to recover. Afterward, Khadija came out on the media and openly spoke about the incident. People empathized with her and supported her cause to wipe the floor in court with her attacker.
Multiple shreds of evidence and DNA tests stand to prove Shah Hussain. However, the case proceeded in the court and we saw both parties contesting each other. Obviously, people at large supported Khadija Siddiqi because, by no means, anything can ever justify the horrific act of violence that was incurred on her. Seeking justice in the eyes of the judiciary, the case spanned for quite a while with parties on both sides sternly contesting each other.
It was revealed that sessions court handed him a 5-year sentence for the offense. The leniency of such a decision sparked massive outrage among people who wanted Shah Hussain to be tried and sentenced fairly for the crime he committed.
Now Lahore High Court acquitted Shah Hussain of all charges and here's what all the Pakistanis have to say
Appeal to CJP Saqib Nisar for #JusticeForKhadija. What kind of judiciary is this which only gives justice when media & civil society pressure is there? You are summoning heads of all depts demanding reforms but what about setting your own house in order https://t.co/8NtJUdq8FR

— M. Jibran Nasir (@MJibranNasir) June 4, 2018
Stay strong, Khadija!
https://twitter.com/ArmeenaRK/status/1003740236470542336
This guy has a valid point
Eating publicly in Ramadan can get you three months in jail but stabbing someone 23 times and you'll walk free. #JusticeForKhadija

— Anas Tipu (@teepusahab) June 4, 2018
What do we expect?
High court didn't do injustice to only Khadija, it just shutdown voices of so many Khadijas, who will never speak up now because what's the point of raising voice & fighting when you get nothing?
But i hope Khadijas will not give up, they'll avenge themselves.#JusticeforKhadija

— Ayeshay (@champagne_lassi) June 4, 2018
Jeremy McLellan shared his thoughts too!
Shah Hussain, who was found guilty last year of brutally stabbing @khadeeeej751 23 times, has just been acquitted by the Lahore High Court. Shameful day for Pakistan. Please support her and her lawyer @HniaziISF as they continue this fight.#WeareWithKhadija #JusticeForKhadija pic.twitter.com/4ubzCgz3Py

— Jeremy McLellan (@JeremyMcLellan) June 4, 2018
Apart from these tweets, Hassan Niazi, Khadija's lawyer came up with some shocking revelations!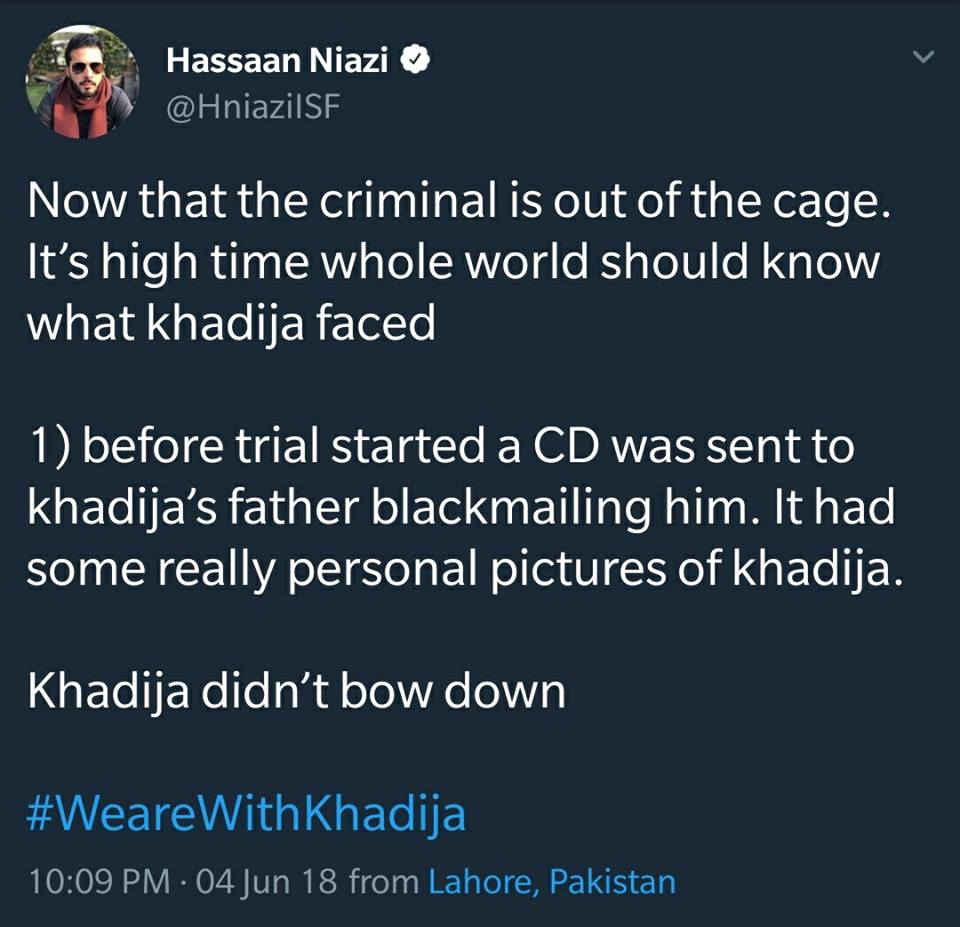 Sulla? Yeah right!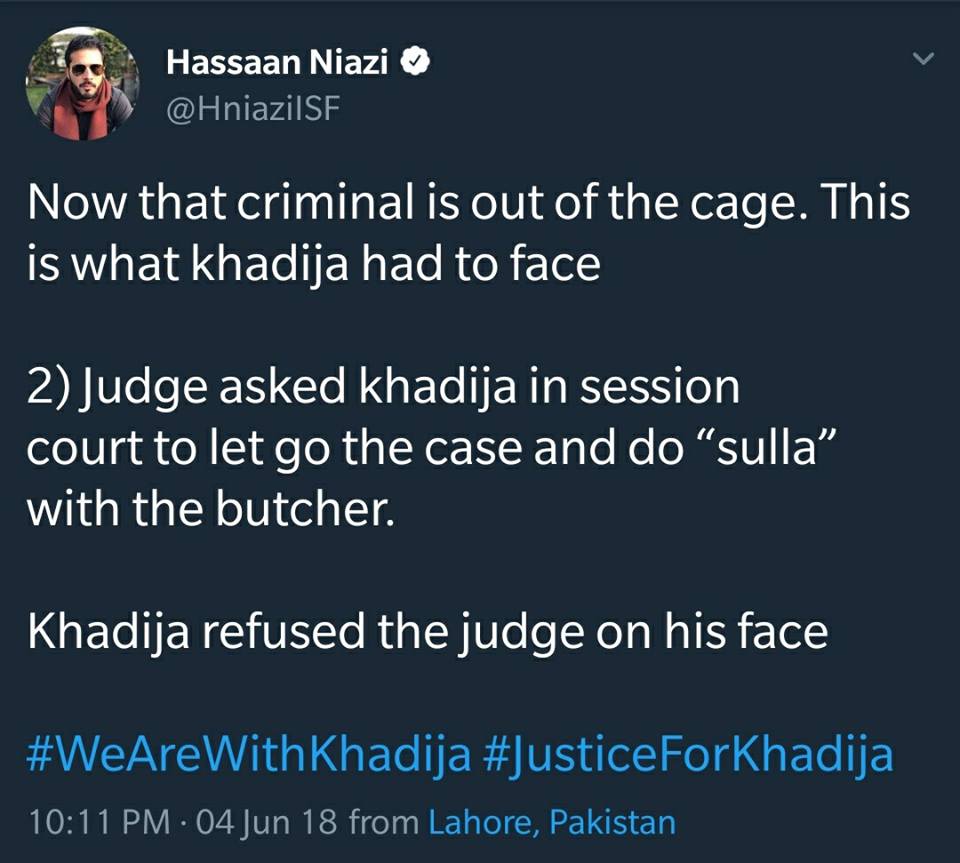 BACK OFF????!!!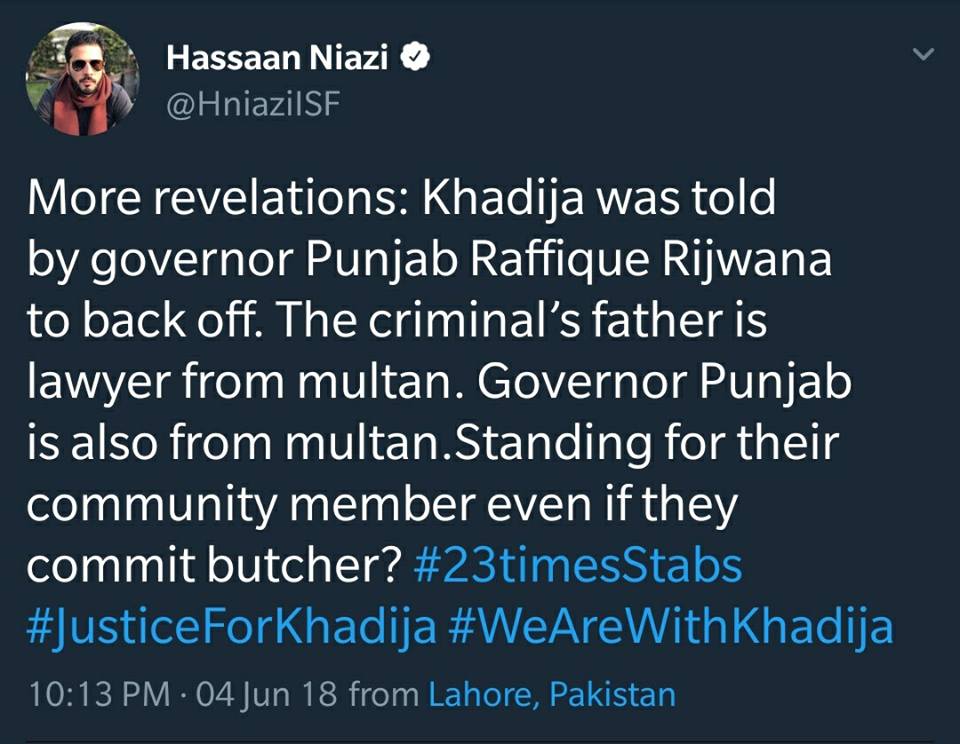 We really hope justice is served or else, it seems like the public will take matters to their end and bring and an end to this unfair decision.
We stand by Khadija!
#JusticeForKhadija