For years, MQM has ruled the streets of Karachi. After many controversial claims and incidents which, according to many Karachiites, has ruined the city, this elections, the locals made a different choice. PTI emerged as the leading choice of Karachi this elections and perhaps this was the way Karachiites expressed how they need a change they were waiting for.
However, there are still various MQM supporters who feel Imran Khan will not bring the good MQM was providing Karachi with.
This MQM Supporter Took It on Herself to Share Her Feelings Regarding Imran Khan and PTI Winning Karachi
Here's what she had to say:
I'm a voter, and supporter of Mutahidda Qoumi Movement, and I've hated you Mr. Imran Khan, since the first time you entered Karachi and used harsh language against the supporters of MQM. It was the failure of your diplomacy which led you to lose from Karachi in 2013. My hatred grew stronger when the establishment started side-lining us, and everyone else like us, and started supporting you!
Congratulations! You've won the elections (with "external support", but i won't blame you kiunkay usko Pakistan ki siyasat se nikaalnay mein bohat arsa lagega).

I never wanted you to take over my city, I didn't vote for you either! but deep inside I knew when it comes to leading the nation, you were a better choice than all of the others. You're more 'honest', and passionate than anyone else, but i still think you and your team will lack in fulfilling the promises you've made.
I wish to be proved wrong!
I wish that in the next 5 years, your government succeeds in getting my vote too!
I hope that next time, you get the vote of people of those 150+ constituencies too, who didn't vote for you this time!
Don't let discrimination be done to any political party, or people on ethnical bases, we're tired of fighting wars.

I've accepted you my Prime Minister,
And
I don't want to see you fail, for if you fail, or you come out to be like the others, these people will go back to Zardaris, Nawazs, and you'll be forgotten! You are in the game of thrones now, and when you're in the game of thrones, you either win, or you die!

Best of luck.
Congratulations PTI, and it's Supporters. Well played!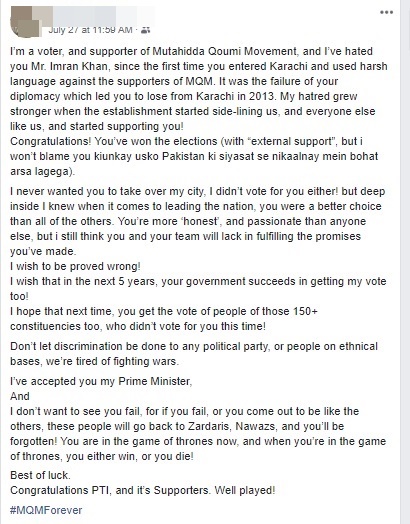 Let's see if PTI's government is able to change the verdict and support of MQM supporters or not!