Scams happen all over the world – not just in Pakistan. However, there is higher accountability when it comes to the events that take place in different parts of the world. In Pakistan, people get away with it. The authorities usually fail to catch the imposters or free them without setting an example.
In An Incident Revolving Imposters, Murad Rahim from Lahore Shared How There are Fake Traffic Policemen Under the Mall Road Underpass
In the incident, Murad shared with us how there were three boys dressed as traffic police wardens, but it seemed strange as the wardens did not have any weapons or police walkie-talkies used for communication.
Here's what Murad shared:
Guys i need to tell you all something !!!
Its about today around 8:30pm I was going to Gulberg from my place on Careem with a friend we just crossed mall road underpass that three boys on two motorbikes wearing Pakistan police green coloured uniforms asked the driver to park the car on a side and let them check, as they asked we parked the car then they started checking us!!

One of them asked me to show my id card to him I took my id card from my wallet and showed them he asked me to give them my wallet on which I refused them.
I suspected them frauds as they were not having any weapon or any phones which usually police officers are having.

They said ok you are cleared and you can go, as I came back in my car I just noticed that the bikes on which they were traveling were not having any number plates and those were not police bikes !!!
This made my confusion cleared and i was sure that they were some frauds or robbers so I suddenly called on 15 ( police help line) and tell them everything , after few minutes they called me back and asked me about the location and those guys !!!

Right after an hour that policeman again called me and told me that i was right, there are 3 boys roaming on roads wearing unfirom and they are doing this with other people as well, they are doing robberies !!

Im impressed with the services of our police .
So kindly please be aware of such people and don't stop until or unless it's a proper check post.
Stay Safe.
Regards,
Murrad Rahim Khan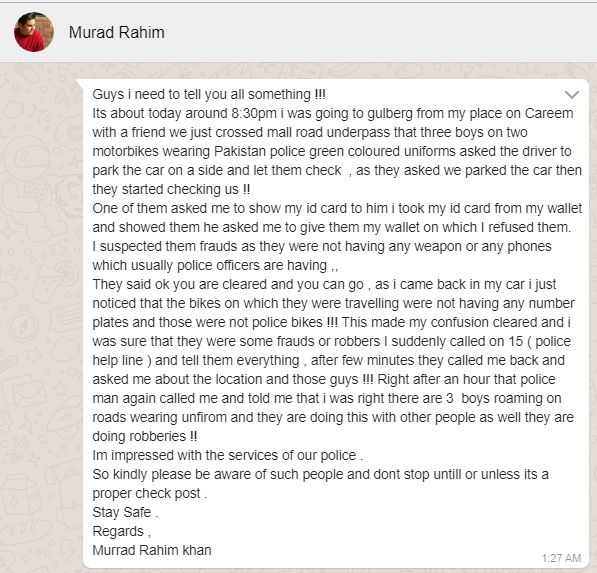 As Murad mentioned, we need to be safe and make sure to cross-check in a proper manner when we are stopped by these imposters. Murad was safe that he noticed – but it could be anyone else.