In 2014, when an Indian channel 'Zindagi' broadcasted Zindagi Gulzar Hai, Humsafar and other Pakistani dramas, it has riveted the Indian audience towards Pakistani television. The high reliability, centralization of every day man's life, portrayal of a sad but real picture has made Pakistani dramas raving successful across the border.
The recent drama serial of ARY Digital 'Aangan' has depicted the story of a desi Punjabi joint family in the most perfect way. The typical fight between deveranis and jethanis, the interference of damaads in every family issue, the attention seeking nand, the only religious son and of course, the buzurg of the family have made this serial just perfect for the viewers. Aangan is not about comedy only, it has covered the serious issues of a joint family too.
Here we have compiled some (obviously not all) memorable moments of Aangan everybody would miss and love to watch again.
1.When Allauddin And Anila Have Proven Themselves As The Real Fasadis Of The Family
The married daughter of the family, Anila and her husband Allauddin are the ones who want attention all the time and despite getting enough of it, they still complain! Remember when all the family had to visit Zoya's susraal-to-be and Allauddin met a minor incident (read MAJOR ACCIDENT) and left a bump on his head after which the whole family has to stay home and take care of the heart patient?
2. When Abba Ji Supported Laila For Starting A Business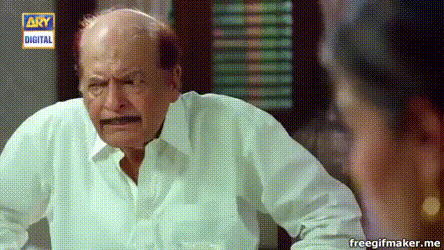 Usually, joint families never bear the women to work because of typical and lame justifications. While in the Aangan family, Main Ji not only supported but also encouraged Laila when she asked to start her own business. It means that not all the families are same!
3. When Hajra Treated The Choti Nand As Her Daughter
Zoya is the bhooli bhaali nand of three bari bhabhis. She has completed her studies and now doing every family member's work while her parents are waiting for a perfect rishta for her. But when Mian Ji and Zaitoon Bano accepted the proposal of Aqdas for whom Hajra was considering her daughter, Zoya felt bad and refused to marry Aqdas. At that time, Hajra treated Zoya like a daughter and made her realize that the whole family is happy including Shaina.
4. When Hajra Questioned Asim's Infertility
A childless couple of the family, Asim and Laila have always seen under the scrutiny by family. Usually, families always questioned a woman for not having a child after ages of marriage while Aangan has broken another stereotype in a subtle way as Hajra asked Sajjad that Asim should go for infertility tests.
5. How Could We Forget All The Wedding Folks?
It all started with Milad for blissful marriage, then comes the most amazing function of every wedding mehndi where Zahid as usual restricted his bhabhis for separate areas plus no dhol dhamaka! They agreed for first one but declined the second! How could Allauddin sit so relaxed at the wedding? He raised the question on Haq Meher because according to him, it was insufficient!
6. When Laila Adopted The Child From Rubina
Yes, it was a memorable moment of the serial too. Although Rubina agreed upon the suggestion by Mian Ji and Zaitoon Bano so that she could have an upper-hand on Laila from now, she became supportive later while watching her hard work and Asim's second marriage controversy.
7. The Whole Family's Shock On Shafiq's Demand For Property Distribution
American returned the son of Zaitoon Bano appeared first on Zoya's wedding and then came with the major twist in the serial. He demanded his father to distribute the property so that he could marry off his son. Anila and Allauddin joined him for their own purpose but it was not as simple as they thought of. The property distribution is one of the major issues of every joint family and how Aangan's cast pulled this part of the drama, it has made fans overwhelmed!
8. When Sajjad Died…
After the demands of Shafiq, Sajjad made every member of the family agreed to the terms and conditions of the clever clan – Shafiq, Anila, and Allauddin. But his heart wasn't able to take all the distress alone and this became the reason of heart attack. The second last episode of Aangan was full of emotions, tears, and sentiments.
9. Afrah And Hajra's Patch Up Moment
When Sadaan and Afrah got married without the consent of his mother, Hajra reacted furiously and never accepted Afrah as her daughter-in-law. But when Hajra lost her husband and the moment of realization came, she confessed in front of Afrah with the teary-eyed that Sajjad always considered Afrah equivalent to Shaina (his daughter).
We are looking forward to more serials like Aangan. Do you want to add up more into the list? Share your thoughts in the comments' section.