As we embrace the wedding season, we see many around us getting married and making new trends and fashion statements. When a public figure ties the knot, it because an event everyone wants to talk about.
What they wear, who they have as the attendees of the weddings, how outstanding the event and the decor is – people view the weddings with these questions in their minds.
Even this year, a number of celebrities opened a new chapter of their lives by saying 'yes' to their love interests. Pakistanis loved seeing their favorite entertainers dressed in glitz and glitter while they step in the married life.
Here Are a Few Pakistani Celebrities Who Committed to their Love Interests in 2017
Azfar Rehman and Fiya Sheikh
The start of 2017 was a shocker as many did not know about Azfar Rehman seeing someone. But then again, the two make a pretty cute couple. Haven't seen them together after the wedding buzz though.
Zaid Ali and Yumnah
YouTuber and comedian Zaid Ali got married to Yumnah in September and Pakistanis were talking all about the wedding, especially how simple the wife was during the wedding.
Arij Fatyma
Pakistani drama actress tied the knot in the August of this year with her childhood best friend.
Natasha Khalid and Ali Lakhani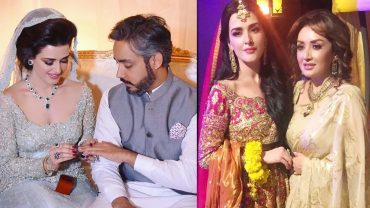 One of the most talked about weddings of the year was the wedding of Natasha Salon's owner and Noorjehan's granddaughter Natasha Khalid. They looked stunning together!
Yasra Rizvi and Abdul Hadi
Announcing their marriage at the beginning of the year, the marriage of Yasra and Abdul Hadi caught a lot of attention because of the age difference the two individuals share. They celebrated union in a very simple manner.
Rumman Raees
Pakistani bowler was among the celebs who tied the knot this year. He got married in September of this year!
Sheefa Jabbar Khattak
If the modern day weddings could have an example, it would be Sheefa's wedding. Marrying someone outside her caste, while she had short-hair-not-so-typical-bridal look and of course, keeping everything extremely casual and simple, Sheefa's wedding was indeed the wedding of the year!
Asad Siddique and Noor Abbas
Pakistani drama actors just tied the knot last night and it still is creating a lot of buzzes!