A number of incidents have been reported around the world in which many people have escaped death. Lately, a similar incident occurred on the Kalyan railway track in Mumbai, India. A man survives even after coming under the train, what a miracle!
In a shocking turn of events, a 70-year-old man came under the train in Mumbai's railway station and survives. A video has come to the surface showing some men from the railway administration trying to get the elderly man out from under the train. Surprisingly, the elderly man can be seen coming out alive and well.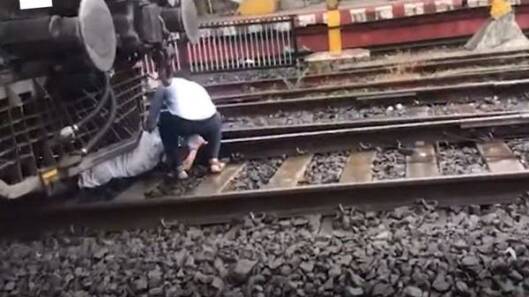 According to a press release issued by the Central Railway of India, the incident took place just after 12 noon last Sunday. The elderly man identified as Hari Shankar fell under the train while passing through the railway track. More so, he got stuck under the train. However, if the train driver had not applied the emergency brake at that moment, the 70-year-old would have fallen under the train and died.
A report states that the track has been closed to the public by the administration because of a citizen's fall. For the timely act of saving the person, the Central Railway GM of India has announced a cash award for each engine driver of Rs2,000. As the old man survived, the video of him has gone viral on social media. There is a sense of surprise among everyone that the old man was able to escape death.
Take a look at the viral video
Many similar incidents have come into the limelight in the recent past. Earlier this month, heart-stopping footage emerged of two women falling from a swing on a 6,300-foot cliff in Russia. In a dramatic turn of events, a small wooden platform located just beyond the cliff edge saved them from death.
A man escaped death last month after a humpback whale swallowed him whole alive and spat him out. The incident took place in Cape Cod in Massachusetts, USA. Thankfully, the 56-year-old man named Michael Packard lives to tell the tale after the mammal spat him back out. It was a rare and unbelievable brush with death!
Another horrific incident occurred in the Sulak Valley in the Russian Republic of Dagestan. The terrifying moment was caught on camera, showing two women while taking a ride on the swing over Sulak Canyon, on the Caspian Sea, when one of its chains snapped.
What do you think of this story? Let us know in the comments section below.