Hamza Ali Abbasi, the man needs no introduction. Initially for me, he was the guy from "Pyare Afzaal", the show my sister watched oh so religiously. And later on, we got to know him more, off screen – he's a citizen with a strong voice, who speaks his truths and opinions with no fear of judgement and critique.
Here are 7 times when Hamza Ali Abbasi stood out on social media:
1. He Was Placed In The Top 20 Of Pakistan's Central Superior Services (CSS)
 But chucked a lucrative career to follow the call of his heart and became an actor and director
2. He Is Fearless – Made Facebook Apologize
CEO and Founder of Facebook, Mark Zuckerberg on Monday said his social network's removal of actor Hamza Ali Abbasi's status regarding the Charlie Hebdo attack and freedom of expression may have been a mistake.
3. He Gives And Takes Criticism Openly
Critique Over Saif Ali Khan's Statement
When People Criticize Him
4. A True Patriot And An Active Politician
He's supports and respects the army, other then that you would think what part an actor can possibly play in politics? Well Hamza Ali Abbasi is here to prove you wrong; he took off time from acting to support Imran Khan
5. Speaks Up For Social Causes
6. Not Afraid To Speak Up On Religious Topics Or Taboos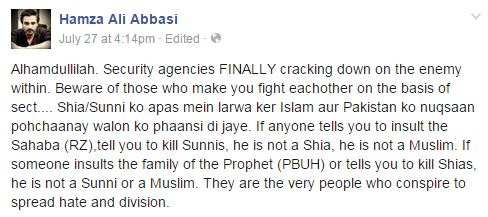 7. Breaks Stereotypes
He might come across as someone else, but he's very down to earth

 There's more to Hamza Ali Abbasi than just good looks! Youth needs to take him as example and step up for themselves and stay strong no matter what.