When selecting a college or any educational institute, beauty of the campus is taken into a lot of consideration by parents and students. Although quality of education should be the key factor that students need to be concerned about, mental satisfaction is also necessary, which arise from the comfort towards your surroundings.
If you are not used to study in cramped and dull spaces, even a good teacher would not be able to teach you anything. Likewise, a splendid campus architecture and planning would greatly help you to develop interest in education.
Keeping that in mind, Pakistan has a number of institutes that offer breathtaking beauty and sceneries. Let's go through a few of them:
1) Sadiq Public School and College, Bahawalpur
The city of Bahawlpur, a state that was once the wealthiest in Indian sub-continent, holds an institute that is known for its beauty and standards, both. Spread across an area of 1851 acres, or about 7.49 km, it is not only the biggest college in Pakistan, but biggest in Asia.
2) Divisional Public School & College, Faisalabad
Built in an industrial city of Faisalabad, it is situated in a central location. Unlike other colleges that you will see ahead, it does not have any natural beauty nor is the weather pleasant enough to be spoken of. However, the whole campus is well maintained such that it is covered with lush green grass fields, trees, and flowers. Also, its cricket ground is so well managed that it has been declared as a First Class cricket field by PCB itself.
3) Lawrence College, Gora Galli
Considered to be one of the elite colleges, it is situated between the Himalayas and Pir Panjal range. Therefore, it is needless to say what beauty this college offers throughout the year. It was established in 1860, however, it still holds its grace and prestige.
4) Chinar Army Public School and Collge, Murree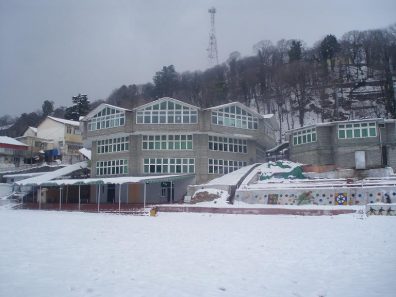 This college is located in the central area of Murree. Built in 1990, it has been under Army's management ever since. Therefore, it is well-maintained and managed. Murree itself is considered to be the Queen of Hills, so imagine the views this college would provide to its young students throughout the calendar.
5) Aitchison College, Lahore
The most prestigious and oldest college in Pakistan, it is located in a central location of Lahore. Beautiful playing fields offer activities such as horse riding and polo for students. Because of its high merit, it is not easy to take admission here.
6) Burn Hall College, Abbottabad
Surrounded by mountains and trees, this college is located besides the main road of Abbottabad. Chinar trees display a wonderful scene on this campus and autumn makes it even more beautiful.
If you find more colleges as beautiful as these, do let us know!