Lahore is known to be a foodie's paradise, although quite behind Karachi in the food game. (Say no to city wars) This is just a fact. The city of gardens has garnered quite a reputation for its delicious cuisines and the historical heritage it offers for exploration. However, for Lahoris, not everything is as it seems. Sometime back, a crackdown on the food business revealed 'khota gosht' (donkey meat) being sold under the guise of regular meat and that was just the beginning of several more shocks to come.
Now, after donkey meat, it seems frog meat is the new delicacy being offered in Lahore.
Police was patrolling around the New Ravi bridge, according to siasat.pk and noticed a shady rickshaw passing by carrying a heavy sack. The police tried to stop the vehicle, but it started to speed up as if trying to escape. This alerted the Lahore police officials and they started to track them down by following them. When the rickshaw was successfully brought to a stop, the discovery was nothing short of a shock.
200 KGs of dead frogs were being transported to a renown market.
Two people, Shahid and Manzoor involved in smuggling these dead frogs have been taken into custody and an investigation is underway to determine the purpose for which they were meant to be used. This isn't the first of its kind news from Lahore, there have been several instances in the past where dishes that included pig meat as well were being sold.
Which restaurant is selling frogs to Pakistanis or whether they were being smuggled to the non-Muslim foreign residents in Lahore, remains a mystery. However, the likelihood of frog meat being infused in a dish, fooling Lahoris is high. Considering the past history of Lahoris being fooled and fed meat of dogs, donkeys, and pigs; anything is possible.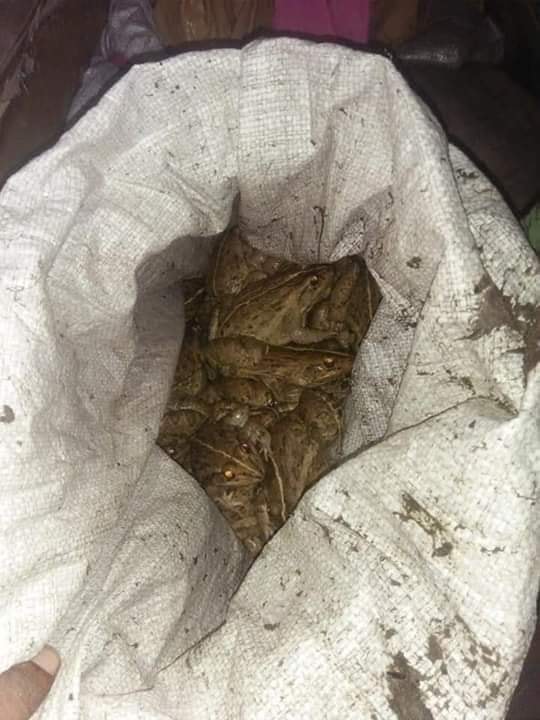 It's great that police forces were smart and quick on their feet to make the right call and capture the culprits. But, every organization needs to work in unison and with full responsibility. The food authority needs to wake up and make rounds to make sure the citizens aren't being fed items that are not for consumption and are harmful. As for the frog meat situation, it is Makruh in Islam. But, this isn't the problem that Lahoris face. It is the blatant betrayal they face in the name of regular food dishes that they order at a restaurant.
Hopefully, further investigation on this case will help Lahore police track down any other suspicious activity involving dead meat of any haraam animal that might get prepared and served, fooling Lahoris.
Have anything to add to the story? Comment below!