It's the season of jalsas and dharnas in Pakistan. With PTI making huge jalsas all over the country, it prompted other parties in the opposition to engage their supporters too.  We saw Jamat-e-Islami gathering enormous number of people and, then, followed by man-power show of Altaf Bhai. The only party which was behind in this aspect was PPP. Once known for massive rallies and jalsas, and one who set the trend of huge gatherings of masses, PPP had been out of the scene for the while. Finally the time came, when PPP's chairman Bilawal Bhutto Zardari announced the jalsa on 18th October at 'Mazar-e-Quaid'. Since then whole Sindh, and certain other parts of country where PPP still enjoys considerable support have gone hullabaloo. Bilawal Bhutto has announced hi formal entrance in politics as he turned 25, making him eligible to contest elections. This jalsa is expected to show approval of Bilawal Bhutto as next leader of Jiyalas in a formal way.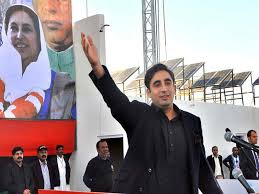 I believe Bilawal Bhutto's jalsa of 18th October will be the biggest in terms of size and magnitude of crowd. A lot won't believe after witnessing the grand jalsas recently conducted by PTI, but, if we think rationally and observe the preparations by PPP, it's not hard to come with an estimate figure of atleast half a million people attending the jalsa. Here are the 5 reasons why Bilawal Bhutto's jalsa of 18th October will be biggest ever:
Bhutto factor
Whether you agree or disagree with the PPP ideology or its policies over the years, the 'Bhutto factor' remains alive as sharply as ever in hearts of people mainly of rural Sindh. The word 'Bhutto' has the cult following and hasn't faded, rather, it has increased over the period of time, not going into details of reasons -right or wrong. It also holds true that people have accepted Bilawal as Bhutto, and not as a Zardari.
So, it's the buzz all around that Bilawal Bhutto is doing the jalsa and when the word Bhutto comes, all the adversities are forgotten by the poor people and they rush to hear a Bhutto speaking. We will see the same thing on 18th October, people from all the little villages and hamlets rushing to Karachi to hear Bilawal Bhutto speaking at the jalsa.
5000 buses and vans hired to transport 'jiyalas' to jalsa makes the figure of half million people:
If you belong from interior of Sindh, you must have fair idea of what I'm talking about. According to reports published in various newspapers, around 5000 buses and vans have been hired to transport the people from rural areas of Sindh to city of crowds- Karachi. Roughly estimating, each bus or mini bus carries around 80 people on average, and we get a figure of around 4 Lac people travelling through buses and mini vans alone. Now, let us take into account the colossal number of luxurious cars of MNA's, MPA's, and district presidents of PPP, who will travel to capital of province.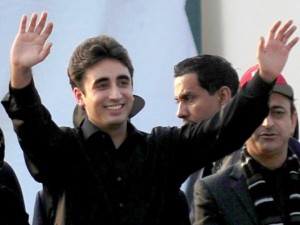 Now, let's take into the account the number of people flowing in from provinces. PPP still enjoys cult-following in few areas of Punjab and other provinces. And, with Bilawal's recent visit to rural Punjab, the jiyalas mood has been uplifted and they feel energetic as ever to see more of their new leader. so, the figure will be around 1 lac people traveling from other provinces. On whole, we get more than 6 lac people, just by observing events surrounding the jalsa. That will make Bilawal Bhutto's jalsa one the biggest in recent times.
The date 18th October will do the magic:
Bilawal Bhutto and PPP top ranks are cunningly wise to have chosen the date of 18th October. As we know, the dates enjoy the major importance in PPP spheres, 18th October is the date when Benazir Bhutto returned to Pakistan from self-exile and was greeted by the sea of around 2 million people spread right from Airport to Bilawal House. The 'jiyalas' have that in mind and with Bilawal expected to deliver the undelivered speech of her mother of 18th October 2007; it has made the supporters more nostalgic and curious to attend the jalsa to hear from their young leader.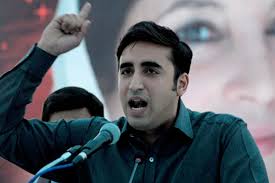 The magnitude of people flowing in to 'Garhi-Khudabakhsh' on death anniversaries of BB and Zulfiqar Ali Bhutto is known to us, and that's just because of the importance of date of their death anniversary  is imprinted in minds of even abandoned PPP jiyalas. So while people may not come to see Bilawal Bhutto speaking , they will come in huge numbers to see Bilawal Bhutto speaking her mothers' words which she was about to utter to her fans on 18th of October exactly seven years ago.
Bilawal Bhutto has government of Sindh under his order:
PPP enjoys kingdom cum government in the Sindh. With the state's muscle behind the PPP's back, they have all the state resources which have already been to put to ensure the hundreds of thousands of people attend the jalsa. The previous jalsa of PPP in Hyderabad couple of years ago is the example in which they made mandatory on the bureaucrats, local government officials, and government employees of all the sectors to attend the jalsa. The means are not cared for as long as they garner the results.
In same manner, with state backing through Sindh Government, PPP will take every measure to get the bureaucrats, low-level government employees and even the criminals to ensure the grandiosity of its 18th October jalsa.
Zardari's political acumen:
No. This is not irrelevant. We are talking about the man who calculates all odds and whose perfection in politics becomes evident when he completed his term of 5 years in government despite all odds. He understands the dynamics of Pakistani politics to core as to no one else seems to understand. It's Asif Ali Zardari who has put responsibility over every MNA, MPA, district president, divisional head to ensure that they mobilize the local supporters and gather the crowds for the jalsa.
With people gathered from every village and city of Sindh, the jalsa of 18th October will, undoubtedly, the gigantic in terms of crowd attending. We didn't witness such a deep thinking during the times of BB and Bhutto, all people were informed was about the jalsa and it was upto them to attend or not. But now, Zardari understands that unless people are not forced to come out, nobody will on their own. This may be morally questionable but, talking about the success of jalsa of 18th October, it will prove to be another expeditious yet rational move of Zardari. Let's see how the 18th October jalsa leaves it mark; only the people and time will decide!