These cold months don't necessarily have to be about spending all your day coiled up in bed, especially when you can blend up a bonanza for yourself in the kitchen with some simple-yet-delicious smoothies. So don't waste the cold months away, as we've got just the right remedies to turn those winter woes into winter wonders!
Here are 5 must-have winter smoothies for some smooth-sailing during the chilling temperatures.
1. Banana Chocolate Smoothie
Did you know cocoa can give you healthier skin with decreased scaling and roughness? Fortunately, this Chocolate Banana Smoothie packs enough of it to ensure your skin remains perfect for the whole winter. All you need is a glass of milk, 1 tbsp honey, 2 bananas, and 1 tbsp of cocoa powder. Blend them together for the perfect morning smoothie during the cold weather!
2. Strawberry Smoothie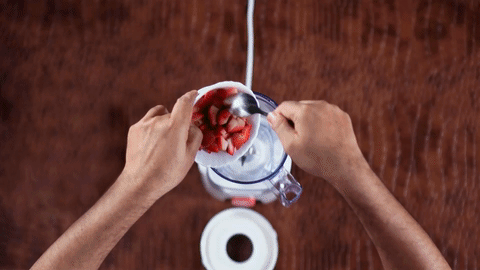 Strawberries are a powerhouse when it comes to immune system-boosting nutrients. You obviously need more of these to fight away the cold during winter, and this Strawberry Smoothie is the easiest way to do so. Blend half a cup (four) of strawberries with a glass of milk and you're all set to give your immune system a much-needed boost!
3. Peanut Butter Hot Chocolate
This one is specifically suited for those cold winter nights. With the warmth of the hot chocolate and the protein from peanut butter, there's no better substitute for ensuring a good night's sleep. The recipe is simple. Add 1 ounce hot chocolate mix, 2 tsp peanut butter, and a glass of milk in a blender, and let the blender do the magic!
4. Pomegranate Orange Smoothie
Caught a flu? Sounds like you need some of that Vitamin-C! This Pomegranate Orange Smoothie will give you exactly that. Blend half a cup of pomegranate seeds, a medium orange, and a glass of milk, and chug away all the goodness!
5. Cheeku Almond Smoothie
Cheeku! Where have you been, old friend? To celebrate your buddy's return, whir a couple of cheekus with a handful of almonds, vanilla essence, and a glass of milk in the blender, and voila! No better way to throw a welcome back party for the cheeky goodness of them cheekus!