Since human beings have existed, stalkers have existed as well. No matter how much you try, you cannot remove them from society. They can be reduced and curbed to an extent but at the end of the day, they will always be there. This is particularly true in a society like Pakistan, where men tend to go overboard and women's rights are still in work. So even though prevention is better than cure, it doesn't make the latter any less necessary.
Here are 5 different ways a Pakistani girl can get rid of her stalkers:
1. Confront them directly
The easiest and simplest move is to confront your stalker. Most stalkers are just cowards who like to creep around behind people's backs and have no courage at all. Just go up to him and tell him to back the hell off and it is almost guaranteed that he will be too uncomfortable and embarrassed to do anything but that. Even though this might not always work, it is the most direct way to address the situation and should be tried before any other step.
2. Make sure you use secure social media applications
People don't understand how easy it for a person to get access to your personal details. This is the 21st century and not all the applications that you use for social media are secure.
Apps like Line offer end-to-end encryption. For those of you who don't know what that is, it means that no one can access your personal files or details unless they physically have your phone. Not only that but it offers a downloadable Security App, Secure Storage, and Disposal, Spam Free Communication.
To make sure stalkers don't hack your account, use Line or any other app which keeps your data secure.
3. Stay away from them
You might laugh because this is obvious but it still needs to be said. Sometimes, all that needs to be done to get away from a stalker is simply ignoring him and staying away. You can block calls and messages from unknown numbers on your messaging app.
Most stalkers just need a little bit of attention to keep up their disgusting habits and when you don't give them any, they pack up and move on.
4. Expose them to the world for what they really are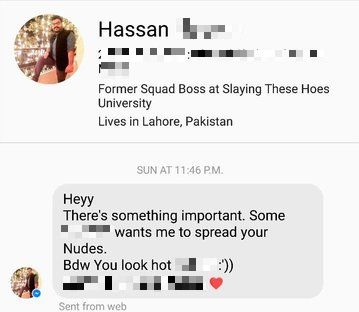 Stalkers do what they do in secret, hence the name "stalkers". So if you take to social media and expose them for what they are, you will destroy them completely. This happened a while ago when a girl from Lahore exposed her stalker on Facebook and the response was so overwhelming that he ended up deleting his Facebook profile.
5. Register a FIR or file a legal notice against them
Under the constitution of Pakistan, sexual harassment in any form is illegal. Be it physical or verbal or even cyber, it is against the law. So if any person is stalking or harassing you at your workplace or sending you weird messages, you can file a legal notice against them which may actually end up with the stalker in prison.
Stalkers are a problem but the solution is right in front of you so don't let it slip away.