Life can be so unpredictable. We know our time in this world is really short and no one knows just when their wheel of life stops spinning. We could die tomorrow, completely unprepared and helpless. The recent incident of a family reportedly drowning in a lake reminds us of the uncertainty of life and certainty of death.
Recently, a family was on a trip to a lake when a devastating turn of events took place. A tragedy dawned on them after one of their family members, the father drowned and when the mother rushed to rescue, and the child also followed, they allegedly reached the same fate.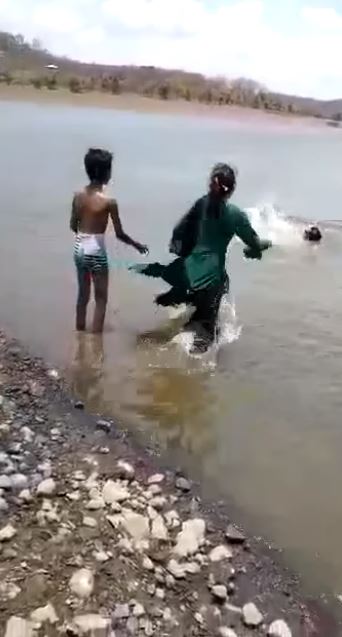 In a video that surfaced on social media, a child screams when he sees his father drowning in the lake. As his mother runs into the water to help him, the water grasps her in as well. The helpless child instantly follows his parents to rescue them, however, the video ends there. As it appears, his younger brother was filming the incident who could be heard crying and screaming.
As of now, the whereabouts of the incident is unknown. In addition to this, there has been no report on whether any of the family members survived or not.
Here is the tragic video
WARNING: Some viewers may find the content of this video disturbing. Viewer discretion is advised.
It pains to mention how a little family picnic cast such a catastrophe for this family. Our sincerest condolences go out to this family. For the survivors, life may seem to be nothing now but our prayers go out to them in this tragic time.
When visiting recreational spots, it is crucial for every individual to get a hard grab of safety precautions and possible hazards. Due to the geographical state of such places, safety is a mandatory call for everyone.
Last year, thirteen picnickers — 10 women and three children — from a Karachi locality were in the boat that overturned in the Keenjhar Lake. According to sources, the capsizing of the boat was because it was overloaded past the allowed capacity. The drowning incident resulted in a ban on boating in Keenjhar Lake. Ten people of a family lost their lives in the tragic incident.
In another similar incident a few years back, a family was on a trip to Neelum Valley when a tragedy broke on them after one of their family members drowned. Unfortunately, when other members rushed to rescue, they tragically reached the same fate.
What do you think of this story? Let us know in the comments section below.