Farhan Ayub, a Pakistani martial artist who set 21 Guinness World Records in various categories previously held by seven countries, now sells T-shirts for Rs300 to make ends meet.
Ayub broke UK player Brandon's record for kip-ups. He had made 22 in one minute, by setting 34 kip-ups in February 2014 Punjab Youth Festival. His second Guinness World Record was set by making 25 'no-handed kip ups' in March 2017.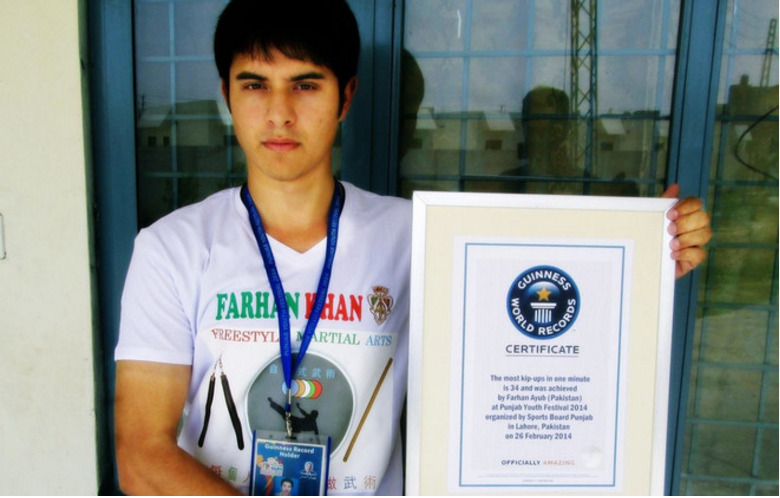 Grappling with extreme poverty, Ayub now sells the T-shirts that he made the world records in. Not only that, but he is all selling his medals.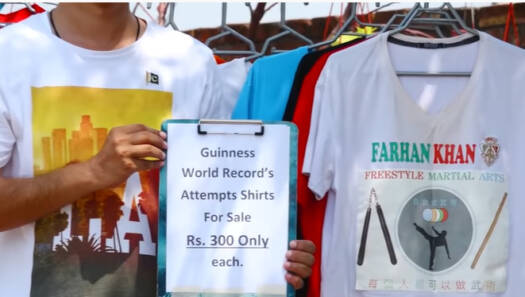 When he was just two months old, he lost his father. The first job Ayub did was cleaning the tires of a car at the age of five and he earned Rs10 to pay for school fees. Since he cannot afford even the public transport fare, he walks at least 10 kilometers on foot every day.
"I began learning martial arts on my own when I was 7 years old," said Ayub while speaking to Daily Pakistan. "I did not have the money to pay a teacher, so I taught myself and broke 21 world records without any assistance from the government."
The 28-year-old struggles to earn his daily bread
'We have no money at home to feed ourselves, so I am selling my T-shirts to raise money," he added. "I was offered to leave Pakistan and make world records for many countries including Canada, China, and London after I broke the world records in the last 4 years. But I wanted to do it for my own country. I did not leave Pakistan because I love my country."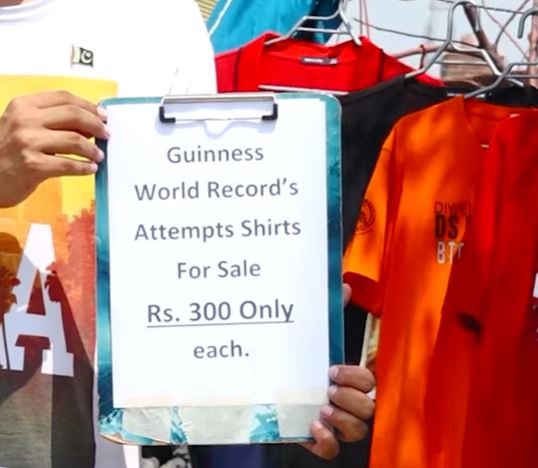 "All the big politicians I have met have made promises, but they never followed through on them. The scholarship allowed me to study Mass Media and earned a 3.6 GPA. As a student and martial artist, I did both simultaneously," he further said.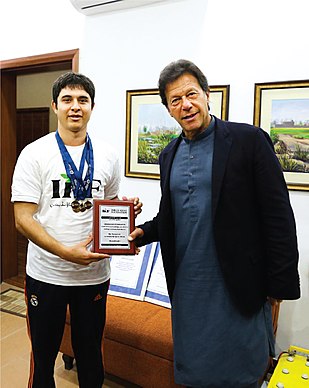 Despite an outstanding GPA, Ayub is unable to find a job. "We live on rent, and these are the T-shirts that I wore when making the world records and meeting the politicians."
Take a look at his interview
Nonetheless, one must not lose hope. Everyone finds themselves in unexpected circumstances sometimes.
Abdul Malik, who earned a degree in aeronautical engineering from China, is now selling sharbat in Pakistan known by the name of 'Muhabbat ka Sharbat'. What were his circumstances?
Arsalan Ahmed is another young graduate who did his bachelor's from Karachi university's department of economics. Why did he set up a stall of French fries and limca after the completion of his degree?
Story Courtesy: Daily Pakistan
What do you think of this story? Let us know in the comments section below.