Pakistanis living abroad have a certain way of doing things. They lead their lives according to how things would have been back home but what they don't realize is… not every country is Pakistan
Are you a Pakistani who grew up abroad? Have you gone through these absolutely hilarious scenarios living in a desi family?
1. When your parents tell you to keep one light on when you go out so that the thieves think you're home..
2. When your parents call you 'Khotay da putter' and you're actually their putter…
3. When there's an 18+ scene on TV and you're forced to look away awkwardly…
4. There's always a fight in the kitchen on what type of masala should be used for Biryani – Shan vs Laziza
5. Visiting aunties always asking the reason of you being so skinny.. "Ami khana nahi deti kya beta?"
6. Having to watch GEO or ARY every time your father gets the TV remote..
7. When your desi mom refers to chewing-gum as "cheengum"
8. There are only two types of food cooked in the house – Daal and Biryani
9. When you can't go to your friends house because they'd want to come to yours too..
10. If you're a girl and you fail an exam or can't make round rotis, you will be told nobody's going to marry you..
11. A loud and sarcastic "Shabaaash" from your mom every time you break a plate or a glass..
12. There would be a certain set of crockery that is ONLY for guests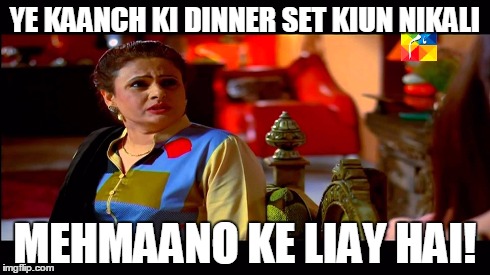 13. When your guests are called at 8pm, they show up at 10pm and leave at 5am…
14. Whenever the men in the family gather together.. all they'd talk about is politics
15. When you eat dinner at a time when the White families go to bed..
16. You always got slapped after hurting yourself.. because you hurt yourself
17. No matter how late you came home, your parents were always there waiting..
So.. did these hilarious scenarios relate to you or people you know who grew up abroad?