The justice to the lost souls of Peshawar attack is finally expected to be delivered as the appeals of mercy by seventeen convicted terrorists has been dismissed. These convicts will be executed in next few days, according to sources in Prime Minister House.
After the Peshawar attack, Prime Minsiter Nawaz Sharif lifted moratorium on death penalty. These 17 terrorists will be the first to be hanged as under capital punishment after the lift of moratorium.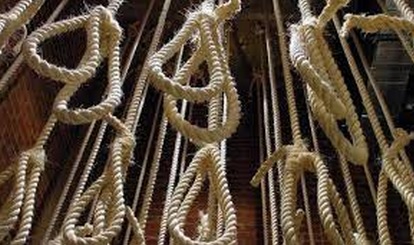 The process of execution will take a few a days and Prime Minister wasn't the process to be expedited. According to sources at Prime Minister House, "Their death warrants will be issued and their relatives will be called in to have their last meeting with the 17 militants."
The seventeen terrorists to be executed belong from different provinces of country. 10 are from Punjab, 6 belong to Sindh, and one hails from Khyber-Pakhtunkhwa.
The moratorium on death penalty was implemented in 2008 and since then only one man has been executed in 2012. The number of convicts with death penalty is as huge as 8,000 and due to prolonged period of moratorium; their executions could not be carried out.
The Prime Minister Nawaz Sharif decided to abandon moratorium on terror-related cases, but not on hardcore offenses such as Pakistan faced in the wake of brutal attack on Army Public School in Peshawar in which 141 innocent people were massacred by Taliban.