These epic most Pakistani advertisements will make you either laugh so hard that you will gasp for air or cry so hard that you might lose your sight…
1. Cheema Mobiles – There Ain't No Mobylez Lyk Cheema Mobylez!
2. Nargis Beauty Cream – Makes You A Diva Overnight!
 3. Skin White Beauty Soap – Halal Advertising!

4. Nisar Charsi Tikkah – This Man Got Swag!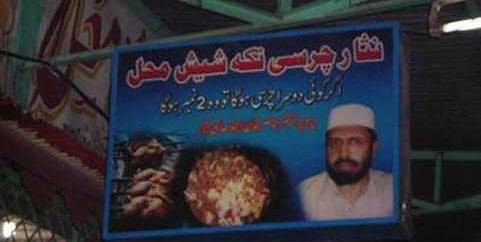 5. Qamar Chaey – Gives You Super Powers!

6. Bodyguard Soap – Bacteria vs Bodyguard!

7. Faiza Beauty Cream – Turns You Into A Dude Magnet Instantly!
 8. Professor Hakeem Muhammad Ali – Every Woman's Best Friend!

9. Hassan Computers – Andheron Main Roshni Ki Aik Kiran

11. Haji Hanif Tailor – Dhula Banaey Achay Achon Ko!

10. Dogar Rent A Car

12. KitKat Talcum Powder – The Most Talked About Ad!