ARY reported that Maryam Nawaz Sharif was sending her daughter to London for studies due to the deteriorating situation of the country.
The ARY news anchor was criticized by Maryam Nawaz Sharif through a 'Tweet' for making false allegations.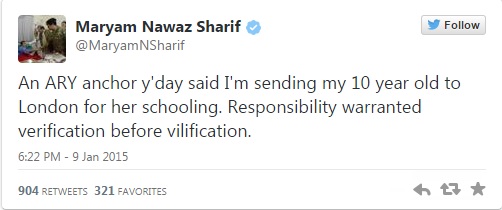 Maryam Nawaz Sharif, the daughter of current Prime Minister of Pakistan Nawaz Sharif responded to the allegation by clarifying that her daughter was pulled out of school for the time being not solely because she faced serious threats, but because her presence might have put the lives of her fellow school kids in jeopardy.
Maryam Nawaz Sharif added:  "The anchor ought to know that to us all kids are as dear as our own and this is why we have put all at stake."
Moreover, she tweeted about media ethics and rising sensationalism.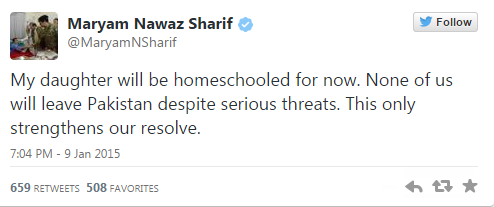 Maryam Nawaz Sharif rejected all the allegations and told that for the time being her daughter will be home schooled and her family will not leave Pakistan despite facing serious threats.