It is a sad truth of life that most of us have felt the pain of losing a loved one. A person that you thought would be there for the rest of your life just disappears and you're left broken. You'd do anything in the world to just see them again, even if it's for just a second.
One of the leading causes of women all over the world dying of unnatural causes is breast cancer. This disease is so prevalent that 1 million women are diagnosed with it annually.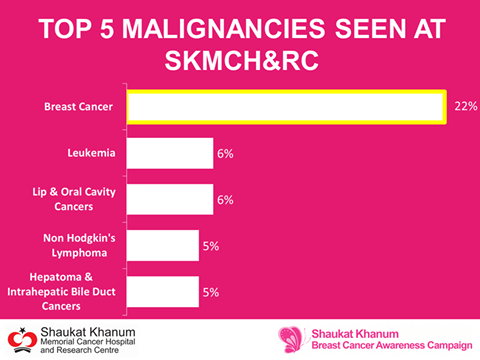 Pakistan has the highest incidence of breast cancer in all of Asia. 1 in 8 Pakistani women are diagnosed with it. The disease claims the lives of nearly 40,000 women in Pakistan every year. Sisters, mothers, wives, and daughters. 40,000 human beings, gone forever.
The women suffering from breast cancer aren't the only victims of it. The family members are the ones who have to live with the loss for the rest of their lives. Kids which are no more than 5 or 6 years old can end up losing their mother. It can even be the other way around. A woman who has spent the better part of her life raising her daughter might have to experience her demise.
But, believe it or not, that's not the worst part. The worst part is that women are not aware of it. If they were, they would get tested regularly.
Precautionary Measures:
Early detection of Breast Cancer increases the chances of survival to 90%.
Women below the age of 40 should carry out regular self-examination
Those over 40 should undergo regular screening mammography.
The people at Shaukat Khanum Memorial Cancer Hospital and Research Centre (SKMCH&RC) noticed that breast cancer continues to be the highest malignancy reported and currently being treated over the years. They have organized a campaign to combat the lack of awareness of it.
This campaign is devoted to creating awareness about breast cancer, its signs, symptoms, and treatment. In order to increase public awareness about breast cancer, we organize awareness sessions in colleges, universities, and corporates across Pakistan. A Grooming Session is also organized at the hospital to help raise the morale of the breast cancer patients and provide cosmetic solutions to some of the problems they are facing.
Under the hashtags #ApnayApSyWadaKaro and #SKM_BCA_Campaign, they have spread their message not just in Pakistan but all across the world as well. Spread this message by sharing their posts wherever you see them.
You might end up saving a life.