Abu Dhabi is planning to literally bring justice to the most distant corners of the emirate with the help of a newly launched double-deck bus, redesigned for holding court sessions and trials wherever it is necessary.
As part of its efforts to improve services, the Emirate's Judicial Department has announced the launch of a fully equipped mobile courtroom capable of holding trials and accommodating legal and administrative staff.
The inauguration on the 4.5 metres high and 14 metres long double-decker, took place in the Presidential Palace.
"The strategy of Abu Dhabi Judicial Department lays stress on the development of judicial and legal services through innovative ways that save the time and effort of customers and on taking its services to all members of the public anytime, anywhere," Sheikh Mansour bin Zayed Al Nahyan, Deputy Prime Minister and Minister of Presidential Affairs and Chairman of Abu Dhabi Judicial Department, said at the ceremony, The National reports.
On its ground level, the bus has a courtroom that will accommodate judges, prosecutors, and clerks. The administrative office providing services and answering public inquiries will be located on the second floor. The bus is also reportedly equipped with a multiple touch-screen system to provide directory information and details of the case during the trials.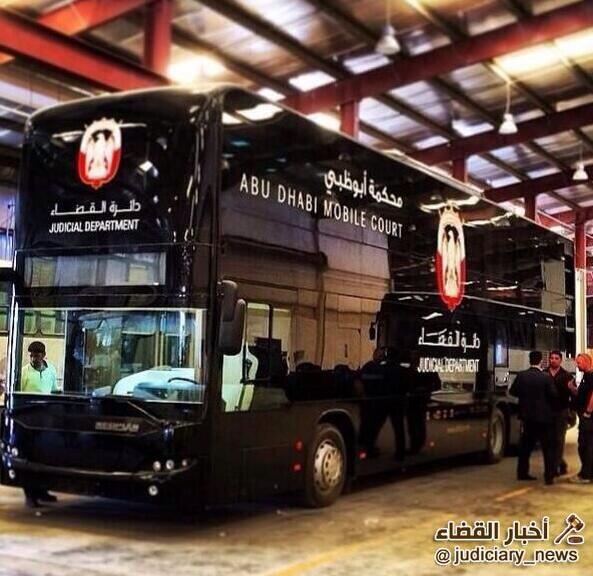 The bus will now travel across the Abu Dhabi emirate on an educational campaign and will visit schools, universities and residential areas to help raise public awareness of judicial procedures.
After that the courtroom will become fully-operational and will start holding trials. "This will be especially efficient to reach those involved in group hearings or individuals with special needs who have difficulty travelling," a judicial department spokesperson told Gulf News earlier this year.
Abu Dhabi is the capital of the United Arab Emirates (UAE), a federation of seven emirates each governed by a hereditary emir who jointly form the Federal Supreme Council, the highest legislative and executive body in the country. One of the emirs is selected as the President of the United Arab Emirates. All emirates have their own secular and Islamic law for civil, criminal, and high courts.
First Published in RT, April 28th, 2014.